Most home bars are pretty utilitarian, and not that colorful. It doesn't have to be that way. Why not make your bar something that makes you smile with lots of bright and colorful Fiestaware?
What is Fiestaware?
If you fall down the rabbit hole, Fiestaware (or just plain Fiesta) can be an entire universe. Basically, it's a line of glazed ceramic dinnerware and accessory pieces. However, there are also coordinating items, such as glassware, kitchen utensils, linens, and silverware available.
The Homer Laughlin company has been making Fiesta pieces in West Virginia, since 1936 (with a twelve year break in 70's). That's pretty impressive. Looking at a Fiesta piece, you can really tell that it was created in the mid-1930's. It just screams Art Deco, with its simple shapes, concentric circles, and vibrant colors. And, it hasn't changed much since then. Which is good!
Fiestaware was extremely popular in the 1940's and 50's, and as a result, there is a huge market of vintage pieces. You can often pick up entire sets at garage sales or estate auctions. Because the basic shapes are unchanged, it's really easy to mix new pieces with vintage ones.
Setting up a Fiestaware Bar
A Fiesta bar can be as big, or as small, as you want. It can also be permanent, using a home wet bar or a bar cart. Or, it could be a temporary setup for a party on your kitchen island. Finally, it can be part of a bigger home bar theme, or the entire theme. It all depends on your space and what you want to do.
A Fiestaware Inspired Bar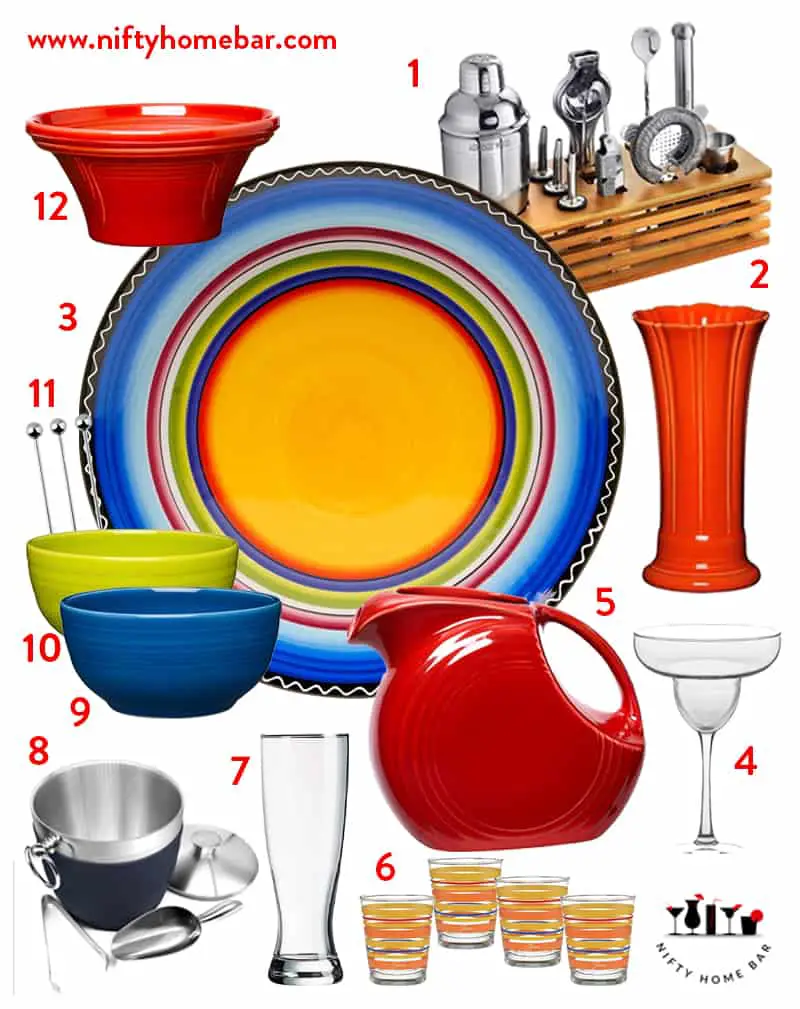 I started with the large Tequila Sunrise Round Serving Platter (#3). While not Fiesta, it has many of the same colors, so it gave me a lot of options. At 14.5″ wide, the platter can be used as a tray under the liquor bottles, or to serve snacks.
This cute Mixology Bartender Kit (#1) organizes and stores most of the essential bar equipment you'll need, including a cocktail shaker. Every bar needs an ice bucket, and this navy Fortune Candy Insulated Ice Bucket (#8) does the job. It even includes a lid, scoop and tongs.
Mix up a pitcher of cocktails in this gorgeous Scarlet Fiesta Disk Pitcher (#5). It holds an impressive 67 ounces, and that's a whole lot of party fun.
Of course you need to serve drinks in some kind of glassware. These Vina Margarita Glasses (#4), Hatherleigh Grand 23 oz. Pilsner Glasses (#7), and Fiesta Old Fashioned Glasses (#6) are great options.
Garnish your drinks with these cool 8″ Stainless Steel Cocktail Picks (#11). They're long enough to skewer several pieces of fruit or olives, plus they're reusable. Your friends might have their reusable straws, but you'll be next level eco-friendly with these.
Now that you have your drinks, and the party is rolling along, where are the snacks?? Use the Fiesta Hostess Serving Bowl in Scarlet (#12) for dips. The Fiesta Small Bistro Bowl (in Lapis (#9) and Lemongrass (#10)) is great for holding your olives or smaller snacks like nuts.
Finally, add some fresh flowers in a lovely Fiesta Poppy Vase (#2), and you are all set to entertain.
Featured Products in this Post
The really great thing about using Fiestaware for your home bar is the flexibility it provides. Pick a color palette and then mix and match however you want. Two people starting with the same platter could come up with completely different color choices. You can go crazy with all different colors, or keep it monochromatic with a single color. It's all up to you!
Pin this!