Have you ever noticed that in movies, the rich guy character is always old school and gets his drink from a decanter set and not directly from the whiskey bottle? Well, unless it's a Western. Then, it's just a shot glass and "leave the bottle." Now that's old, old school. But, if you aren't up to being a cowboy, and just want to be regular old school rich guy, store your whisky in one of these decanters.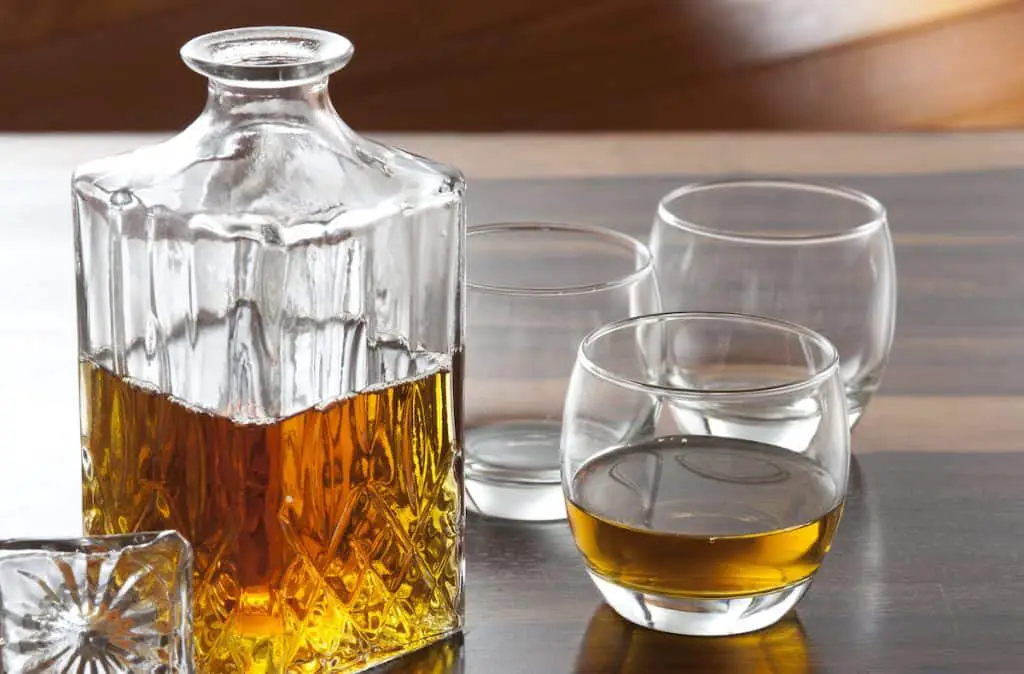 What is a Decanter Set?
A decanter set can be a large glass bottle with a fitted stopper lid, and matching glasses, or a collection of several decorative bottles used to store alcohol. Decanter sets are usually displayed as part of a home bar or on a bar cart.
HOW LONG WILL WHISKEY KEEP IN A DECANTER SET?
As long as it has a tight fitting stopper, whiskey in a decanter should have the same shelf life as if it were in the original packaging. The more important question here is, how quickly do you drink it?
ARE CRYSTAL DECANTERS SAFE?
It really depends on the individual decanter, and its composition. Lead crystal decanters can leach lead into the alcohol, so obviously, you'll want to avoid using those. But, many modern day decanters are made from lead-free glass, and are perfectly safe.
10 Decanter Sets to go Old school
I've rounded up ten really cool decanters that would look amazing in a home bar or on a bar cart. Some are sets with different sized bottles, or a single decanter with coordinating glasses, and most are just single decanters. Snag a couple three and fill with different liquors to make your own set.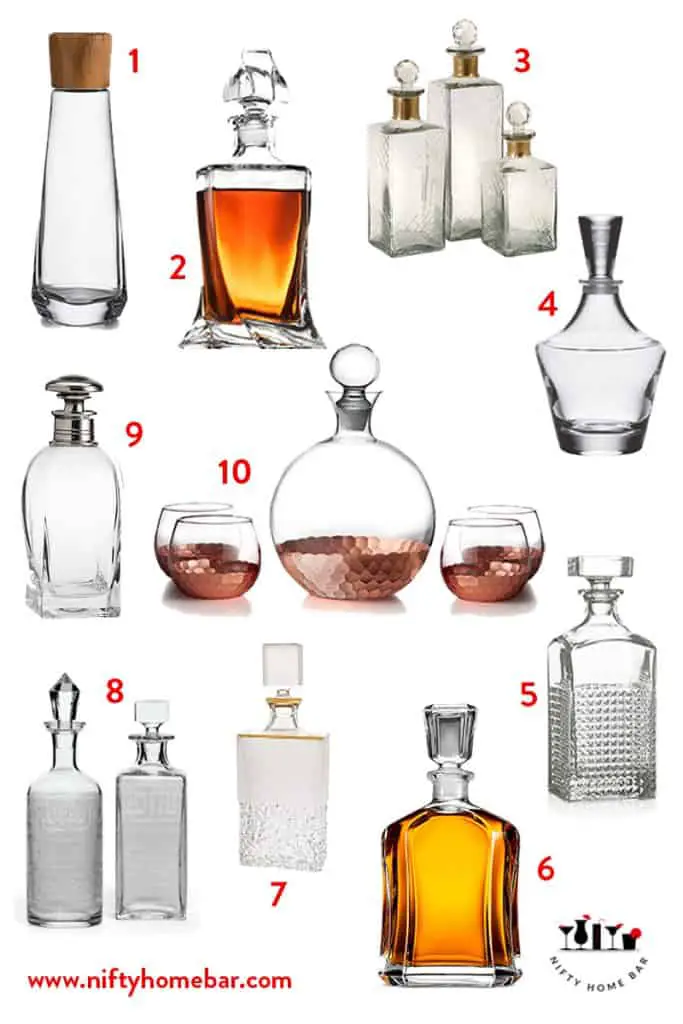 1. Nambe Vie Decanter
This Nambe Vie Decanter would look so very, very cool on a Mid Century Modern piece of furniture, like a credenza or bar cabinet. Now that's old school.
2. Twist Crystal Whiskey Decanter
The Twist Crystal Whiskey Decanter reminds me of a perfume bottle, and even comes in a fancy gift box.
3. Hampshire Etched Decanters
Your decanter set is all ready to go with this set of three Hampshire Etched Decanters. The diagonal etching is rather subtle on this elegant set.
4. Simon Pearce Bristol Decanter
Simon Pearce's products are known for their simple, yet elegant designs, and the Bristol Decanter fits right in. It gets bonus points for being handmade in Vermont.
5. Brixton Decanter
The Brixton Decanter is the most old school style of the group, and would look smashing in a group of three. The raised pattern will help you keep hold of the bottle late into the night.
6. Paksh Decanter
This Paksh Capitol Glass Decanter would look great on an Art Deco cocktail cabinet. Who's ready for a Gatsby party??
7. Majestic Crystal Decanter
For some reason, I can only picture storing vodka in the Majestic Crystal Decanter. I guess it's the combination of frosted glass and the textured glass at the bottom that looks like ice.
8. Birchy Handcrafted Decanter
The Birchy Handcrafted Decanter Set has a nice vintage feel to it, with one round and one square bottle. It's a more collected-over-time look.
9. Pewter Hand-Blown Glass Decanter
The pewter stopper and neck really makes the Pewter Hand-Blown Glass Decanter stand out from the crowd.
10. Fitz and floyd Daphne Decanter Set
I picked the Fitz and Floyd Daphne Decanter Set because of it's interesting shape and the copper bottom. This would look really great on a little bar cart!
So, who's ready to look like the rich guy in the movie, and pour a drink from their old school decanter set?
Be sure to check out some of our other posts:
Pin this for later.