Hey there, PussyCat. Ready to make your personal watering hole THE place to be? For this post, we've come up with a whole bunch of home bar themes that can transform your hole from ho-hum to amazing. These themes will get you out of Dullsville, and IN with the cool crowd.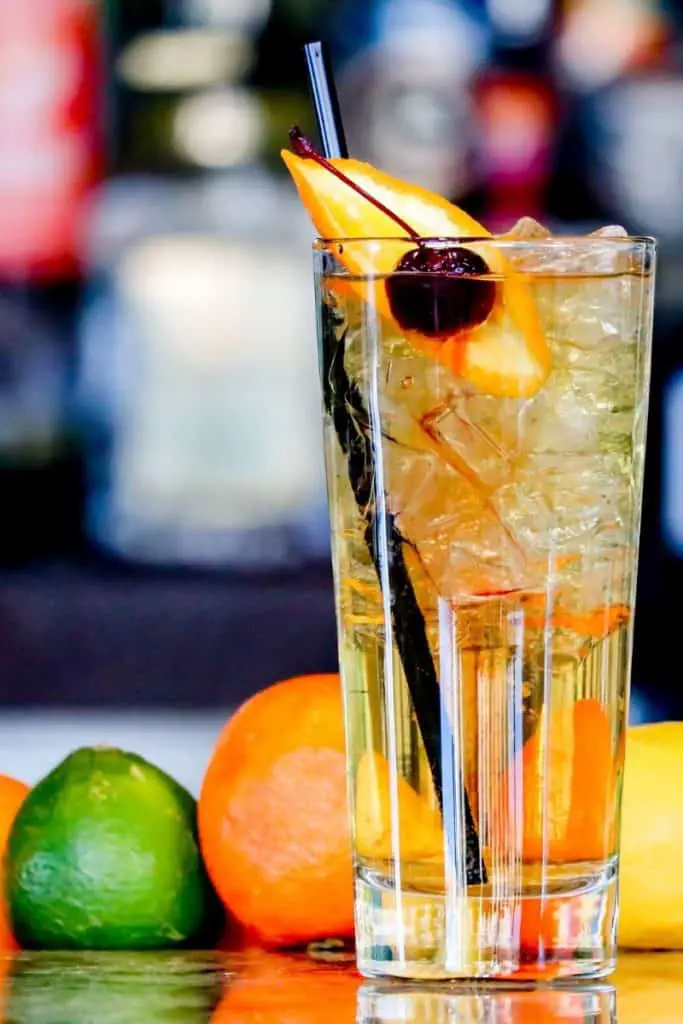 Home Bar Basics
In addition to a theme, you'll need a few basics to get your home bar hopping. Bar equipment, like bottle openers, corkscrews, jiggers, cocktail shakers, and strainers, are important for the cocktail maker. Whisky drinkers need a cool decanter set. If you're only serving up beer or wine, you'll want a good corkscrew, bottle opener, and some nice glassware.
Home Bar Themes
Your home bar needs a theme, otherwise it's just plain vanilla ice cream. While vanilla ice cream is good, why not have a veritable banana split? A cool place. A place where you and your friends enjoy spending time. Your home bar.
Once you've decided on a theme, decorating is easy. To get your creative juices flowing, here's our list of twenty-five home bar themes:
Home Bar Themes: Sports
Super Fan – This one's easy. Pick a team, college or pro, and fit out your bar with ALL the merchandise.
Sport Specific – Great for those that just love the sport, or have more than one favorite team.
Golf – Your very own 19th Hole, at home.
Equestrian – Horse racing is called "The Sport of Kings", so enjoy your Kentucky Bourbon in this hot spot.
Home Bar Themes: Locations
Tiki – Step into your own Trader Vic's and enjoy a Mai Tai cocktail without leaving home.
Beach/Coastal – Soothing tropical winds, an icy cocktail, and some Jimmy Buffet, no matter where you live, the season, or the time of day.
Western – Line 'em up, partner.
English Pub – Pop down to the Pub for a pint. Don't forget the darts.
Nautical – Anchors aweigh. No grog, though.
Home Bar Themes: Era
Hippy/1970's – Peace signs, macrame, and lots of tie dye. Groovy, man.

Vintage Las Vegas – Sinatra, showgirls, and slot machines. Fly me to the moon….
Hollywood Glam – Old Hollywood with a bit of Art Deco, and an extra splash of glamor. A place you could picture Joan Crawford hanging out.
1950's – A jukebox, black & white checkered floor, and a vintage style fridge for a bar that would make Fonzi happy.
Home Bar Themes: Interests
Gaming – Perfect for those that are into video games, or board games like Dungeons & Dragons.
Card Shark – Poker, Black Jack, or Gin Rummy? Invite the squad over for a night of fun.
Superhero – Focus in on a superhero (or a villain!) or a whole universe, like Marvel.
Film – Movie posters in your favorite genre or era. 1950's monster flicks like Frankenstein & Dracula would be pretty cool.
Harley – Vroom. Vroom. Black, orange, and trademarked merchandise. Easy peasy.
Music – Pick a favorite band or era. 80's hair bands, anyone?
Home Bar Themes: Style
Posh – Channel your inner Thurston Howell, III in this uber luxurious spot.
Boho – Enjoy your Moscow Mule (in a copper mug, of course!) amongst some plants in macrame hangers.
Fiesta – Bright colors, decorative Mexican tiles, and a few cacti. It can be Cinco de Mayo everyday.
Steampunk – A little Victorian luxury mixed in with some industrial elements.
Speakeasy – Make sure you know the password to get into this bar, and then enjoy your bathtub gin while
Cougar's Lair – A little bling, a dash of glam, and a spritz of animal prints. Meow.
So, which bar theme is for you? How are you going to change your bar from plain vanilla into a banana split? Let us know in the comments!
Pin this for later!