Now that we're all spending a lot more time at home, many are looking for ways to make their home more fun and entertaining. What says fun more than the escapism of a home tiki bar?
Like a good tiki cocktail, the secret to an amazing home tiki bar is in the "ingredients" and their proportions. A great tiki space is one part interior design, one part lighting, and two parts decorations. Once you have those essential elements, you're ready to sit back and enjoy your tropical paradise.
Create a Home Tiki Bar – The room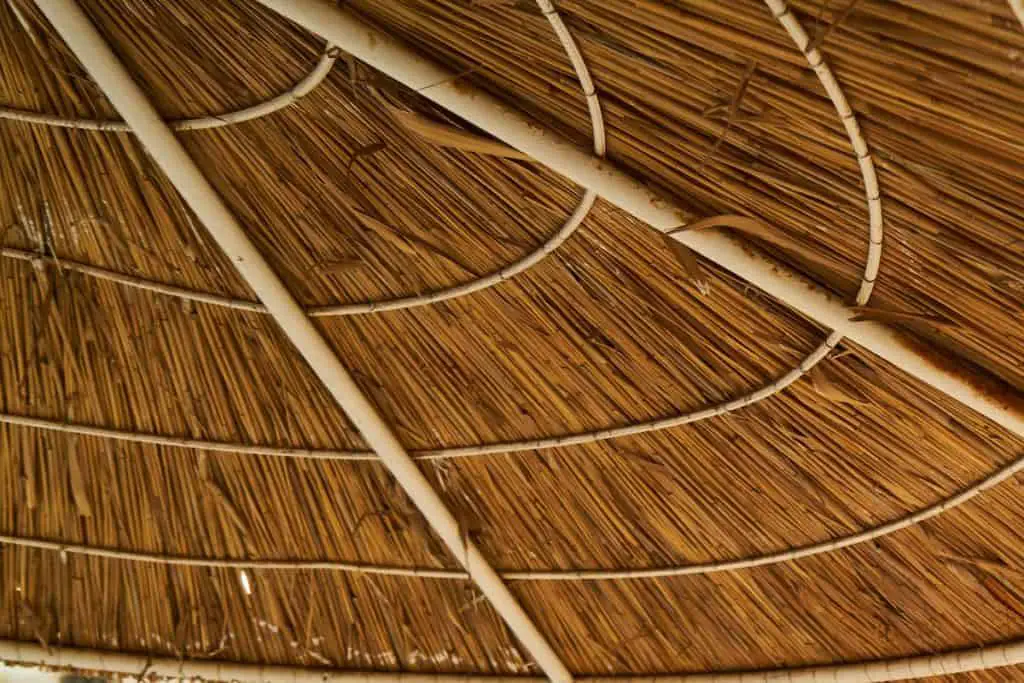 Tiki rooms are a place of mystery and darkness, and that's what creates the vibe that everyone loves so much. For your home tiki bar, start with a blank canvas of a dark ceiling and dark walls. A deep dark brown (like Sherwin Williams French Roast) will look richer and more tropical than pure black. Don't forget to paint the trim and any doors the same color.
A wood or wood-look floor is a must for the bar area. A wide plank (in the 6-7″ wide range), with some nice texture or distressing, and in a medium to dark color (no grey!) would look amazing. Luxury Vinyl Tile (LVT) and Luxury Vinyl Plank (LVP) will withstand a lot of spilled drinks, and offer the easiest post-party cleanup. But, if your neighborhood is strictly real wood flooring, then try this French Oak Silver Sands – Malibu.
At this point, you can move on to the other elements, or you can add another layer of tiki to the room. Here are a few suggestions:
Lash together a grid of 1″-1.5″ diameter bamboo poles, and suspend 8″-12″ below the ceiling. Hang lights and decorations from the grid.
Attach half round bamboo poles in various diameters directly to the ceiling in an interesting grid pattern.
Using moulding or bamboo poles, install a chair rail 36″-48″ above the floor. Attach Lauhala matting, bamboo panels, or other tropical materials below the chair rail. Or above the rail. Or both. Whatever you like!
Attach matting, bamboo panels or thatch directly to the ceiling.
Build a hut inside the room, or at least make it look like you're inside a hut. Place large 4″-6″ diameter bamboo poles in the corners to act as columns. Create a gable roof using bamboo poles as framing members, and add a thatched roof.
Add a seagrass rug to the floor for texture and visual interest.
Create a Home Tiki Bar – The Bar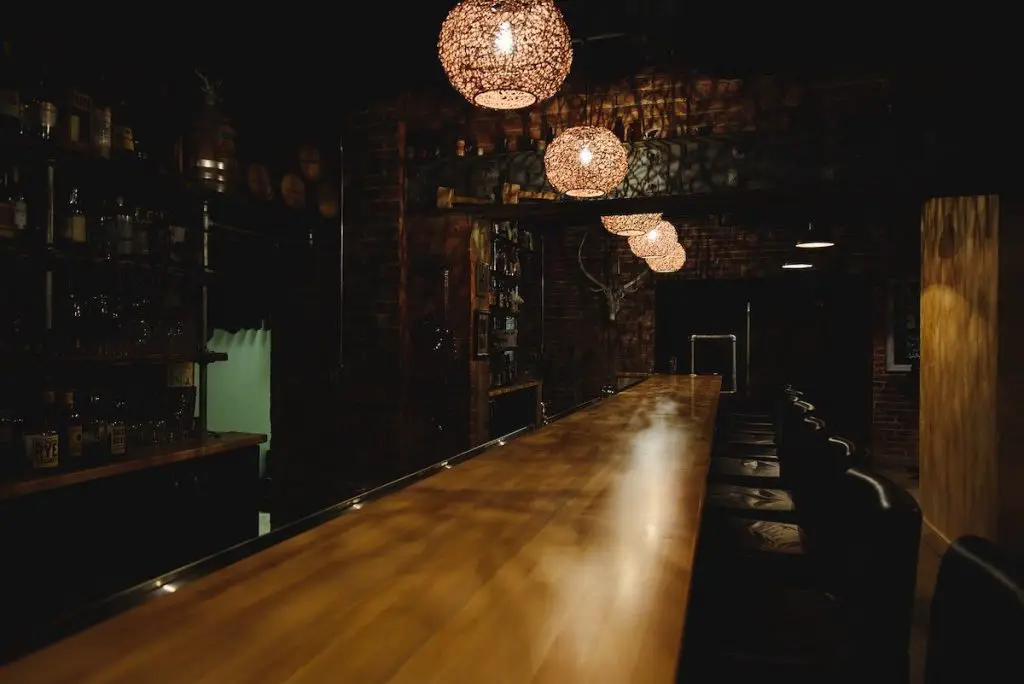 Obviously, you need a bar in your tiki palace. But what kind of bar?? The answer will largely depend on your space, how you visualize using it, and your budget.
Some things to consider:
Will it be strictly for your enjoyment or do you plan on entertaining larger groups?
Where will it be located – in a spare room? In the main living area, or a basement bar?
Will it be a built-in bar or moveable?
Will it be a wet bar with a sink?
Where will you store bar equipment, glasses, and ingredients?
Will alcohol bottles be displayed? On a shelf, in a cabinet, or on a back bar?
Will it have seating? How many seats do you have room for? (Allow 24″ of bar width per seat.)
A full built-in bar is a big commitment, both in terms of space and money. Using an outdoor tiki bar is a great option for those without a lot of space, want a moveable bar, or have a smaller budgets.
Create a Home Tiki Bar – Lighting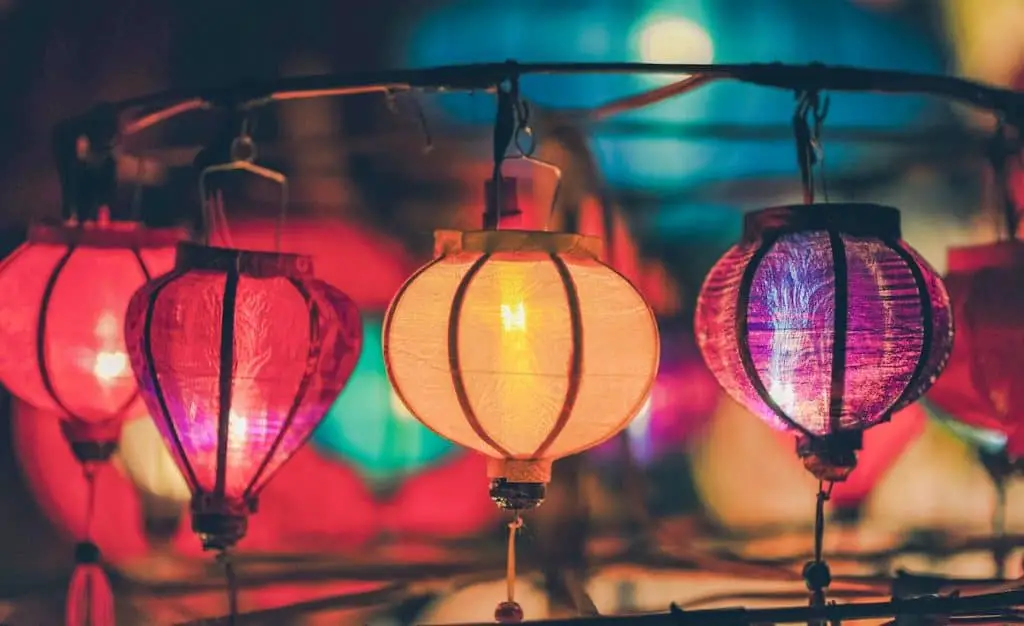 Lighting is the secret ingredient to a good home tiki bar. Little spots of soft light is the key idea. Look for low lumen (brightness) bulbs, with a low (warm) color temperature, or even colored bulbs, to put in the overhead fixtures.
Speaking of fixtures, they need to be exotic and interesting. Historically, tiki bars used Japanese fishing float lights, fish traps, and puffer fish fixtures. Regular lighting fixtures with bamboo, thatching, or cane are good as well. Of course, string lights are always great.
A ceiling fan with rattan blades or palm leaf shaped blades would look great too. Just be sure it provides low level lighting so it doesn't ruin your dark and mysterious ambiance.
Create a Home Tiki Bar – Window Coverings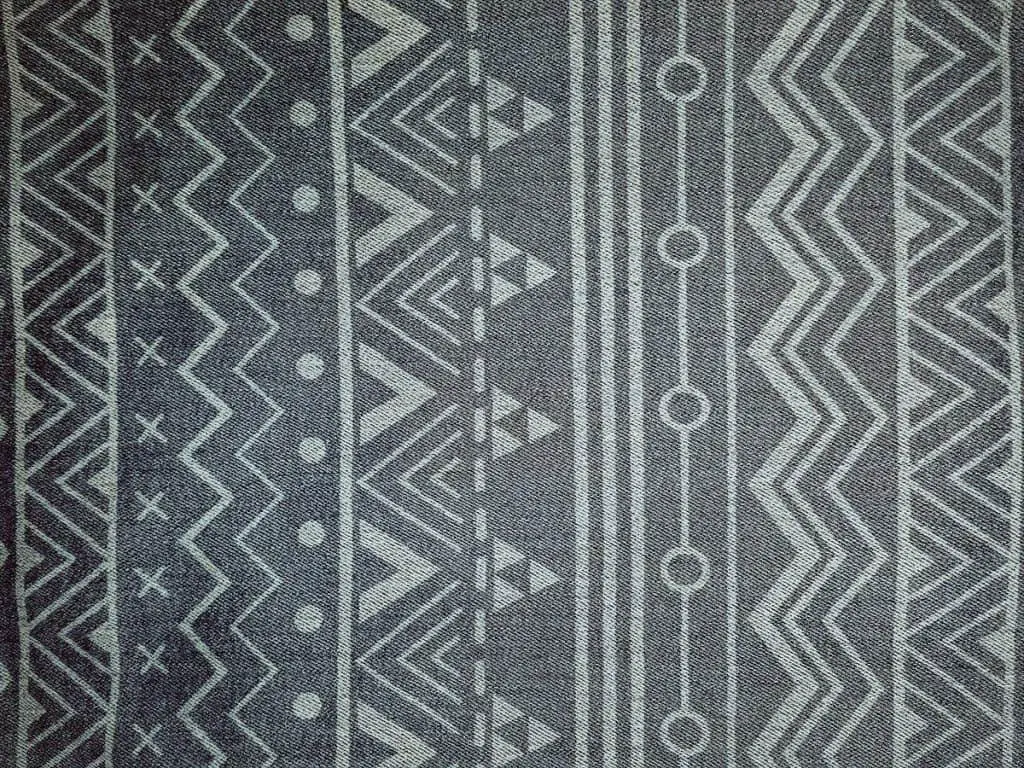 If your home bar area has windows, they'll need to be covered to get that tiki-level of darkness. Start with a good blackout shade. These Pottery Barn Bali Natural Bamboo Shades would be great base layer. Then add colorful cloth curtains like a tapa cloth print for a real punch of tropical flavor. I like barkcloth because it has all the tropical 1940's feels.
Create a Home Tiki Bar – The Decor
Now for the really fun stuff that will take your bar to the next level!
Water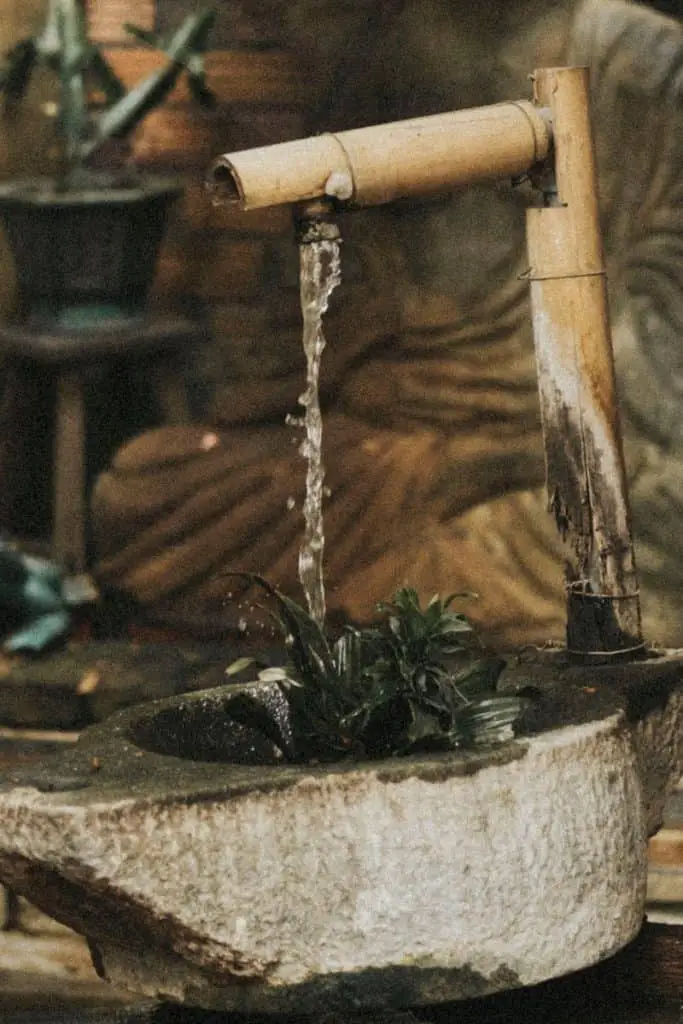 A tiki room definitely needs the soothing sounds of a waterfall, and that makes a fountain the perfect addition to your bar area. Depending on you space, it can simply be a table top fountain, or a larger version on the floor.
Glassware
Instead of standard glassware, add some fun with Tiki mugs, bamboo mugs, or Tiki inspired glassware. Don't forget the bamboo straws, drink umbrellas, and swizzle sticks for those tropical drinks!
Plants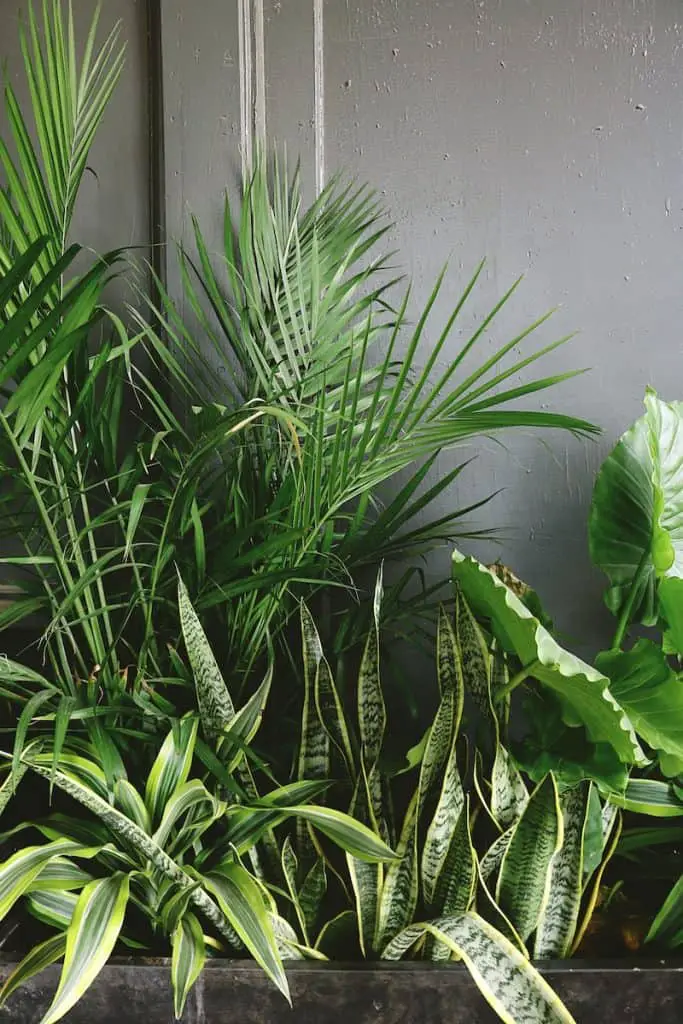 Add lots of tropical houseplants in simple dark pots or troughs. Look for Mother-in-Law's Tongue (best plant name ever!), bamboo, Swiss cheese Plant, Amazon Elephant's Ear, and Philodendron, as a start. Add some color with orchids, anthurium, and Bird of Paradise.
Decor
Tiki bar decor can be anything from signs and artwork, to glass floats and netting, to dock pilings and rope, to tropical fruits and coconuts, to seashells, sea life, and tropical birds. Personally, I prefer the decorations with a Mid Century Modern flavor, the bright tropical colors, and Polynesian influences, more than the Tiki totem items.
A good tiki bar will take years to come into its own, but you can certainly start with these basic ideas. Then just grab one of your tiki cocktail recipe books, and get started mixing drinks!
Be sure to check out our Pinterest Tiki Bar board for more inspiration.
Pin this for later!