The dancing flames of tiki torches add such a wonderful ambiance to a backyard. Since it's so quick and easy to create an enchanting area with just a few torches, that there's really no reason not too!
Tiki Torches – Our STYLISH Top Picks
Tiki torches come in a surprising number of shapes, sizes and materials. Instead of the bamboo and rattan tiki torches that everyone seems to own, grab some of these very snazzy options and level up your backyard oasis.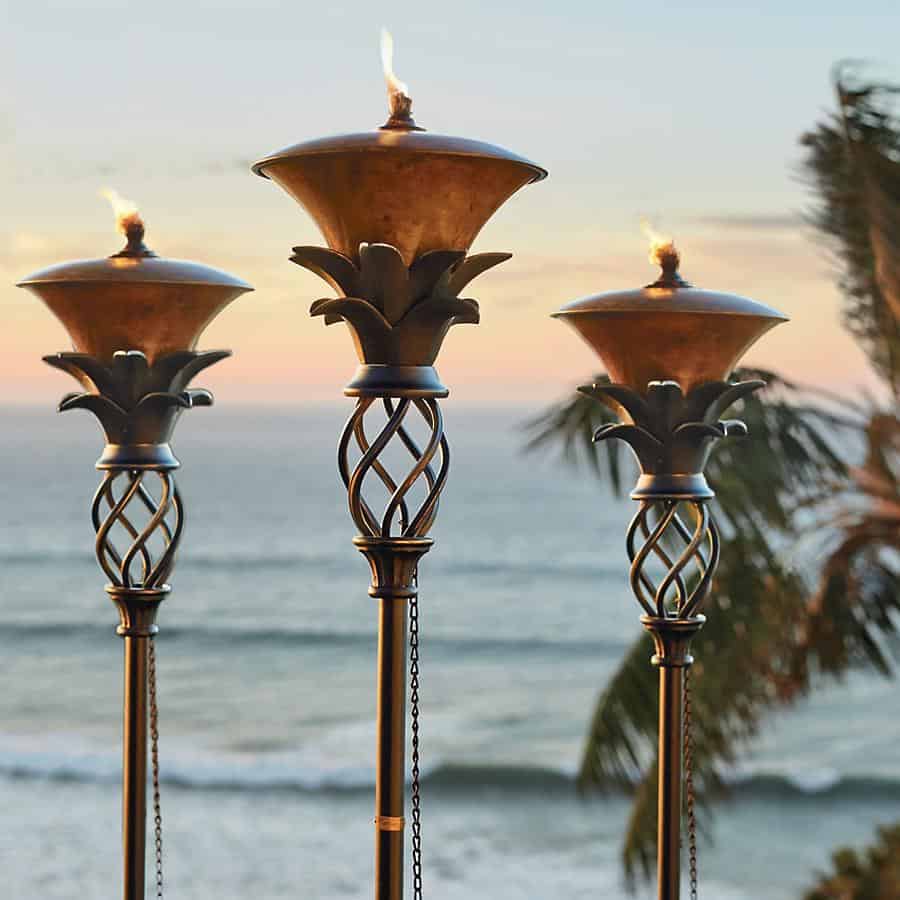 These pineapple shaped copper torches are at the top of our Must-Have list for a future tiki bar! They'll make you feel like your backyard is actually some lovely tropical locale. Imagine settling in with a tropical drink – you're good for the evening.
Pros:
30 oz. oil reservoir means less time refilling oil
64″ long hand forged iron stake with powder coating
Chain attached snuffer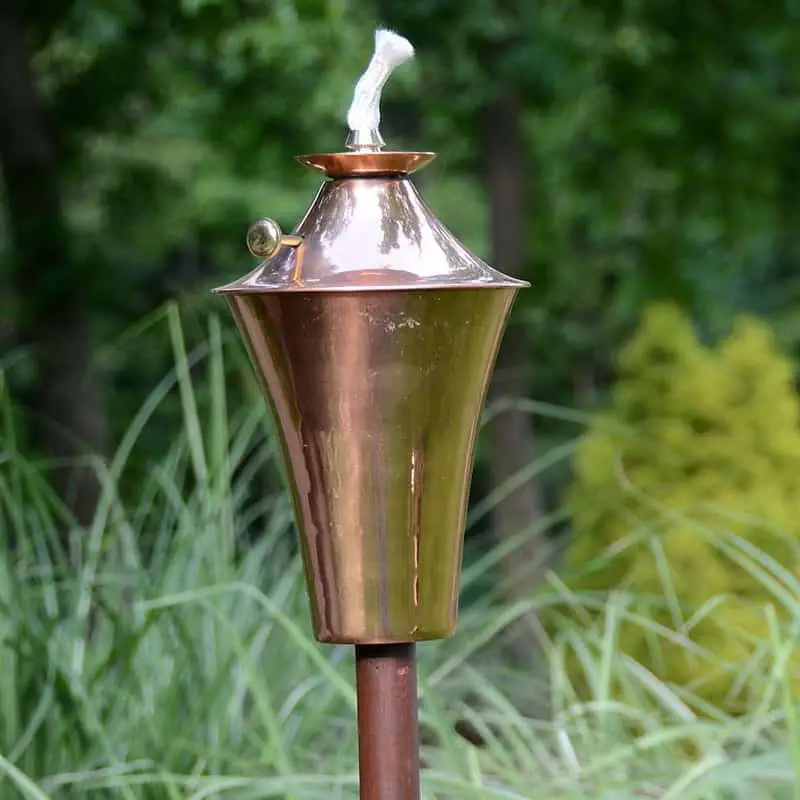 Good design is all about form, and these torches have great form – sweet and simple – and in a lovely smooth copper finish.
Pros:
Handcrafted metal
32 oz oil reservoir (about 24 hours of burn time)
Adjustable wick height dial
Selection of metal finishes – steel, brass, nickel, and copper, as well as hammered and smooth finishes.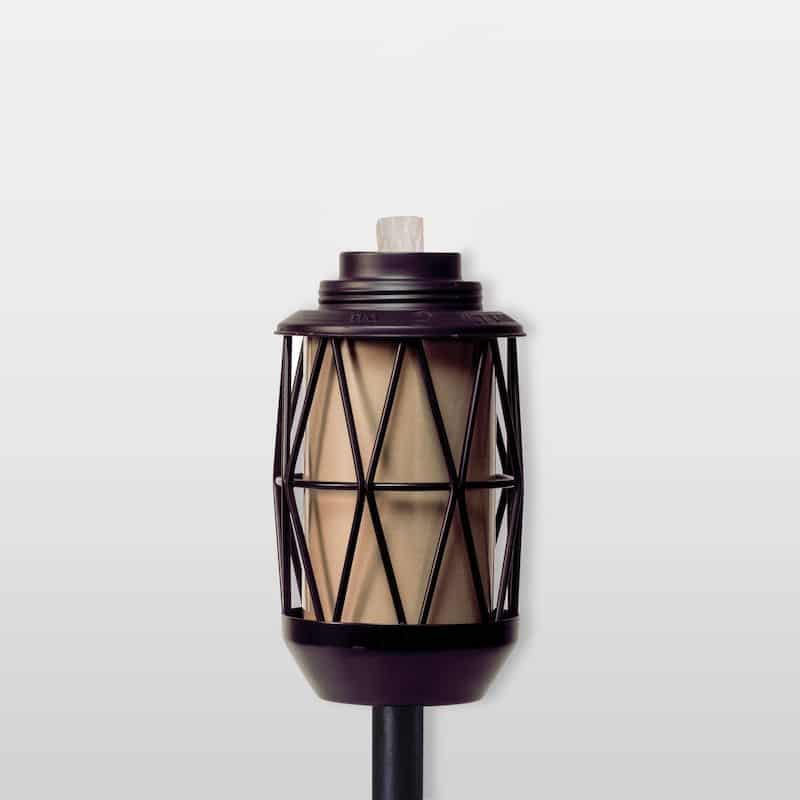 Get a tropical vibe with the black metal outer cage and tan colored interior cylinder of this torch.
Pros:
Torch's head design creates a larger flame
12 oz. reservoir
For easier storage, pole can be disassembled into four pieces
Chain attached metal snuffer included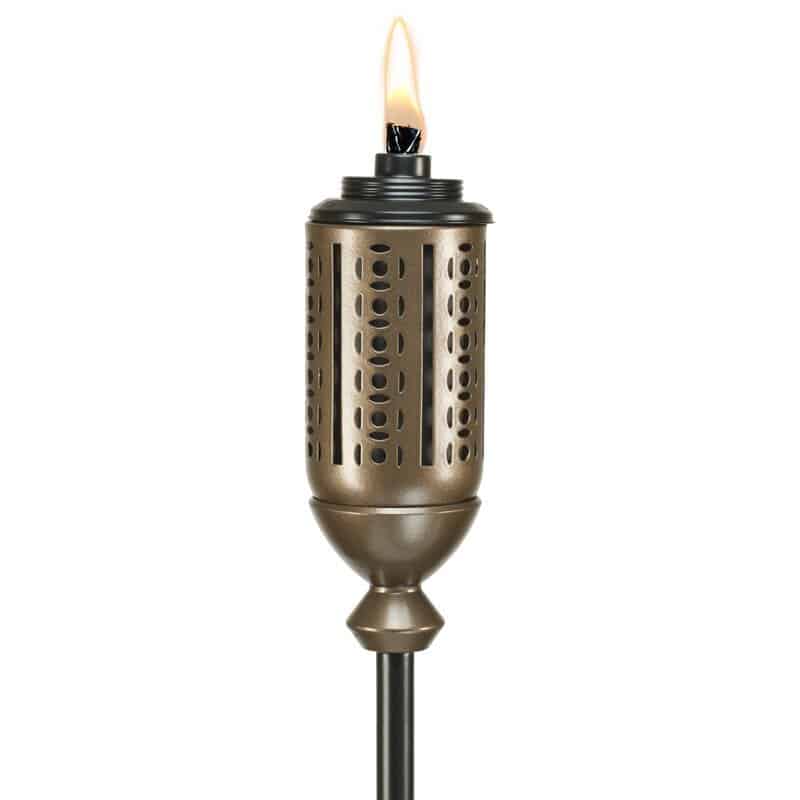 This lovely copper finish torch, with a pattern of punched openings, has an adjustable pole so that the height can be changed from 65″ to 50″.
Pros:
Easy pour wide mouth canister for fewer spills
Four piece pole for adjustable height and easy storage
Includes metal snuffer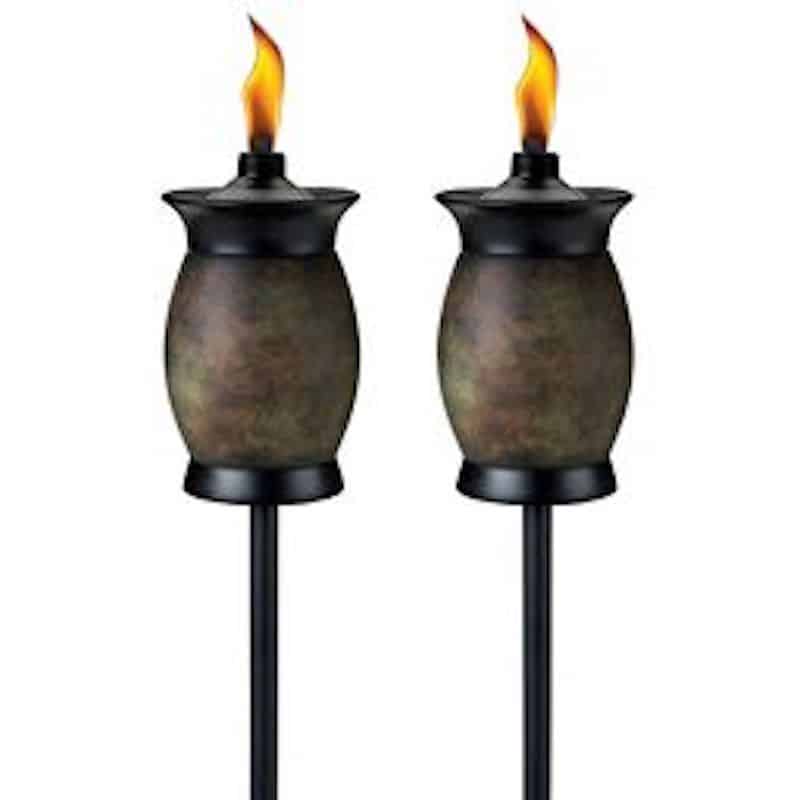 While not overly tiki, the dark colors of these curvaceous little ceramic torches make them real lookers.
Pros:
Four-in-one torch with three pole heights, or set it directly on a flat surface.
Includes deck mounting bracket
Metal snuffer included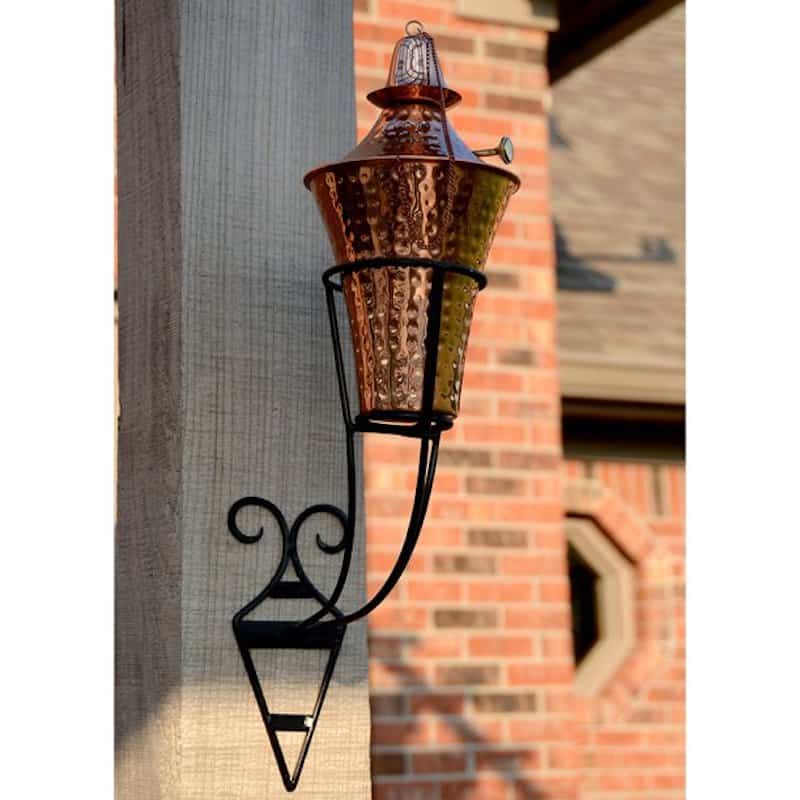 This is the only sconce torch to make this list, and it's fabulous! (Just be sure to mount it in a safe place – not under the roof eaves, or near flammable wall materials, like wood or vinyl siding.)
Pros:
32 oz oil reservoir (about 24 hours of burn time)
Adjustable wick control to brighten or dim flame
Selection of metal finishes in copper burn, hammered copper, hammered nickel, smooth copper and smooth nickel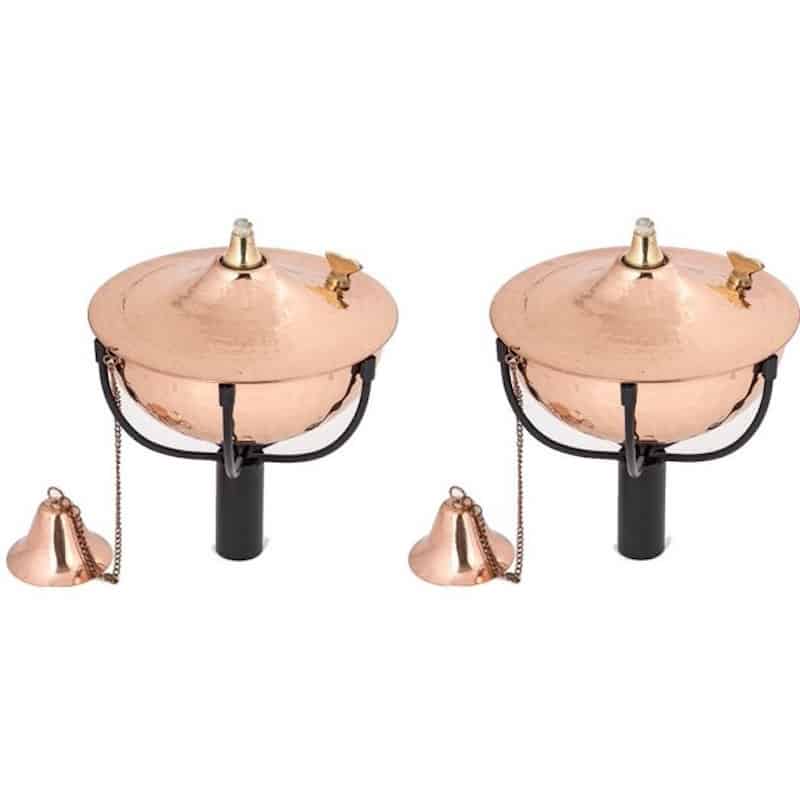 These very stylish torches will definitely level up your home tiki bar.
Pros:
28 oz oil reservoir (12+ hours of burn time)
Remove the bowl from the pole, and use as a tabletop torch
Selection of metal finishes in cranberry, hammered copper, smooth black, smooth nickel, and white

Another stylish option, but in a petite size at 3.5″x3.1″x65″ tall.
Pros:
Convertible from 65″ to 50″ garden torch with four piece pole
Metal snuffer included
Longlasting fiberglass wick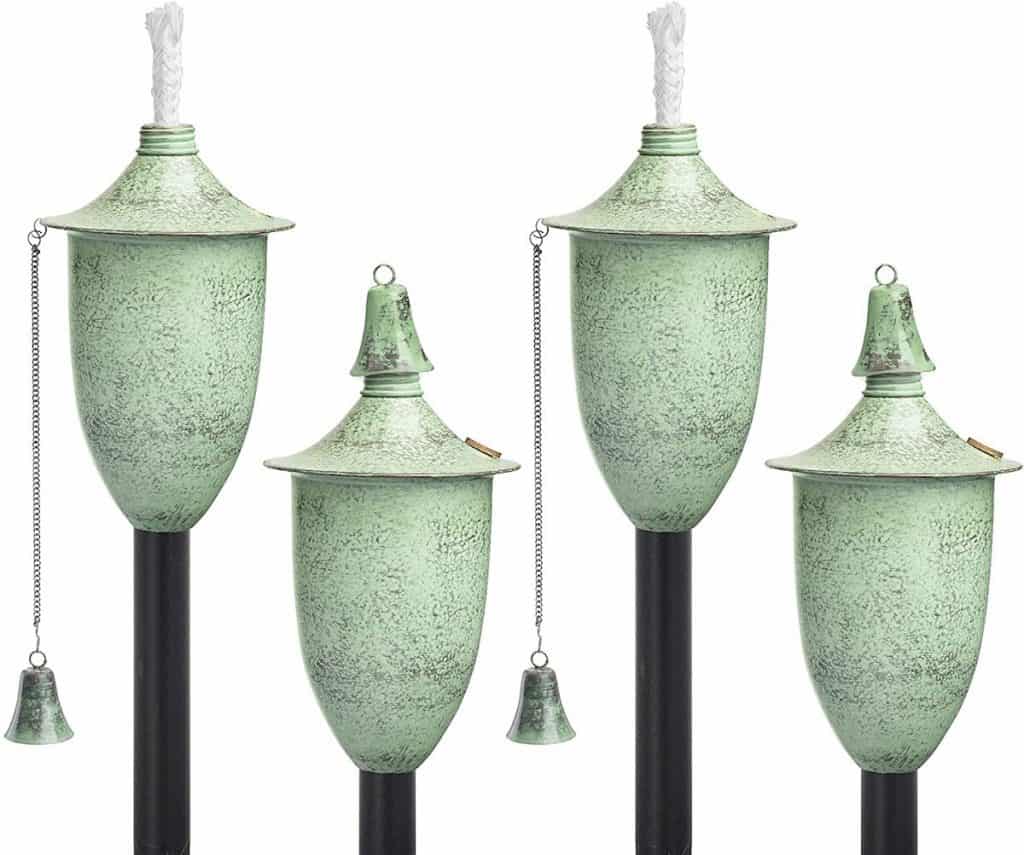 These torches not only look great on the included pole, but you can remove them from the pole and use them on the tabletop.
Pros:
54″ tall pole in three sections, and chain attached snuffer
20 oz oil reservoir
Available in two torch sizes and numerous finishes including brushed bronze, hammered copper, smooth black, smooth copper, and patina

The blue glass of this torch reminds me of sea glass, and would fit right in near an outdoor tiki bar set.
Pros:
Converts from 65″ height to 50″ height
Can be used as 8″ tall tabletop torch
17 oz oil reservoir
Buying Guide to Tiki Torches
Now that we've gone through our top picks, it's time to answer some popular questions, and provide some things to think about before you buy.
Is it OK to leave tiki torches outside?
Yes. However, if the wick is exposed to rain, it could be difficult to light. Purchase torches with snuffer caps (and be sure to put them on!) to avoid trouble.
How long do tiki torches last?
It depends on the oil used, and the capacity of the tiki torch, but count on about 1 hour of burn time per 1 fluid ounce of oil.
Do tiki torches work to repel mosquitos?
There appears to be some disagreement on this one. A recent study determined that citronella did very little to repel mosquitos. Conversely, many people swear by the efficacy of burning citronella oil, whether that's in a torch, candle or coil.
What bugs do tiki torches keep away?
The answer to this question will depend on the type of fuel you use. Citronella based fuel claims to repel all kinds of flying insects, including mosquitos and flies. Other fuels, such as kerosene, are odorless, and do very little towards keeping the bugs away.
How many tiki torches do I need?
This will depend on the size of your backyard, and its configuration. Too many torches and everything will taste like citronella, or be in danger of being knocked over. Too few, and you look like Scrooge McDuck hosting a luau.
Using appropriate spacing (see below), place enough torches to provide adequate lighting and insect repellent around the places you and your guests will be gathering.
Torches are a great way to highlight your backyard features, such as a pool, fountain, or tiki bar. If you're lacking a focal point, equally space an odd number of torches in a line to create a nice visual rhythm.
How far apart do you put tiki torches?
Placing torches approximately 6′-8′ apart will provide the right amount of coverage for both lighting and keeping the bugs away.
What is the best tiki torch wick?
Because they do not actually burn, fiberglass wicks will last indefinitely. They also provide better flow of the fuel between the reservoir and the flame. Cotton wicks may be cheaper, but you'll need to replace them.
Speaking of replacing wicks, you'll want to change wicks if you change the torch fuel.
Tthat wraps up our list of stylish tiki torches and buying guide. Who's ready to sit back and enjoy a lovely summer evening in the backyard?
Pin this for later!