It's a little known fact, but Mrs. Claus doesn't do dairy. Pretty interesting, considering she's married to a man who is famous for consuming milk and cookies. So, in honor of Mrs. Claus, we've created this tasty chocolate peppermint cocktail that's perfect for vegans and other non-dairy folks.
Holiday movies play a pretty important role here in our house. We start with Planes, Trains, and Automobiles on Thanksgiving Eve, and watch all the old classics through Christmas. On average, we probably watch five different versions of A Christmas Carol. With all the craziness of 2020, I'm really looking forward to enjoying our family movie tradition while sipping on this chocolate peppermint cocktail!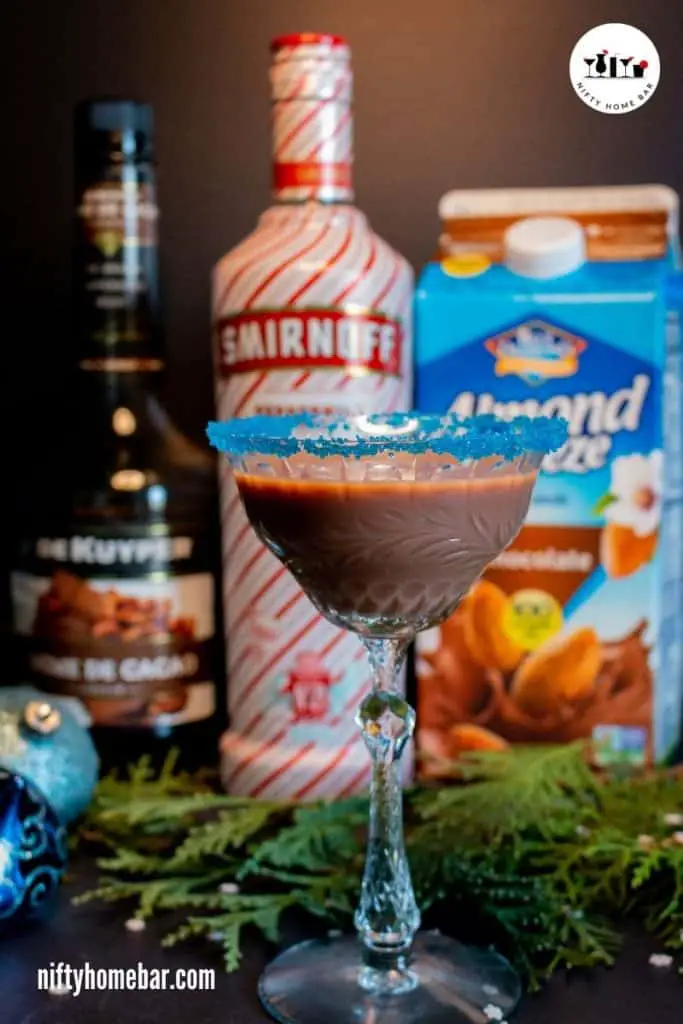 I'm not much of a mixologist. I like simple drinks that come together fast, and don't have a bunch of fancy, or hard to find, ingredients. I always think of Nick the Bartender from It's a Wonderful Life when I'm mixing up a cocktail.
This drink certainly fits the bill. Three simple ingredients that can be found in most grocery stores. While you don't need a lot of bar equipment, you'll need a jigger to measure the ingredients. Using a cocktail shaker with this recipe is nice, but not necessary. If simple drinks aren't your style, be sure to check out some of the books in our 10 Tantalizing Tiki Cocktail Recipe Books post.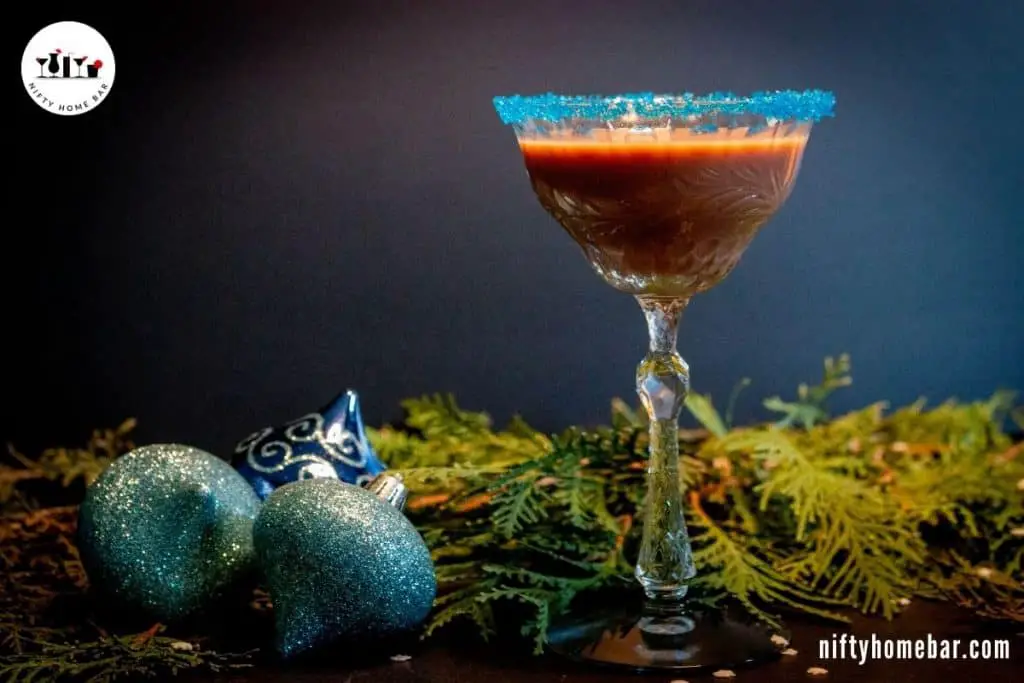 Looking for other cocktail recipes? Check out our summertime Lemon Cake Cocktail, or spooky Halloween Witches Brew Cocktail for some tasty sips.
Mrs. Claus' Chocolate Peppermint Cocktail – The Ingredients
Just three simple ingredients.
Chocolate Almond Milk
If you're like Mrs. Claus and don't do dairy, many of those chocolate-y holiday drinks are just plain out of bounds. I saw Almond Breeze's Chocolate Almondmilk at my local grocery store, and was intrigued. I really wanted to have a non-dairy version of those chocolate holiday drinks. If you're not into the plant based milks, feel free to substitute regular chocolate milk.
Peppermint Vodka
Chocolate peppermint drinks are usually made with peppermint schnapps. (BTW, if you use spearmint schnapps, your drink will taste oddly like chocolate toothpaste. Hehe. It's not good.) For this recipe, I picked up a bottle of Smirnoff's Peppermint Twist Vodka. It's infused with candied peppermint flavor.
Creme de Cacao
In spite of its name, Creme de cacao is actually dairy free. It's made from distilled and macerated cacao beans. It gives a nice, subtle chocolate boost to the cocktail. I used DeKuyper's Creme de Cacao for this recipe.
Garnishing Mrs. Claus' Chocolate Peppermint Cocktail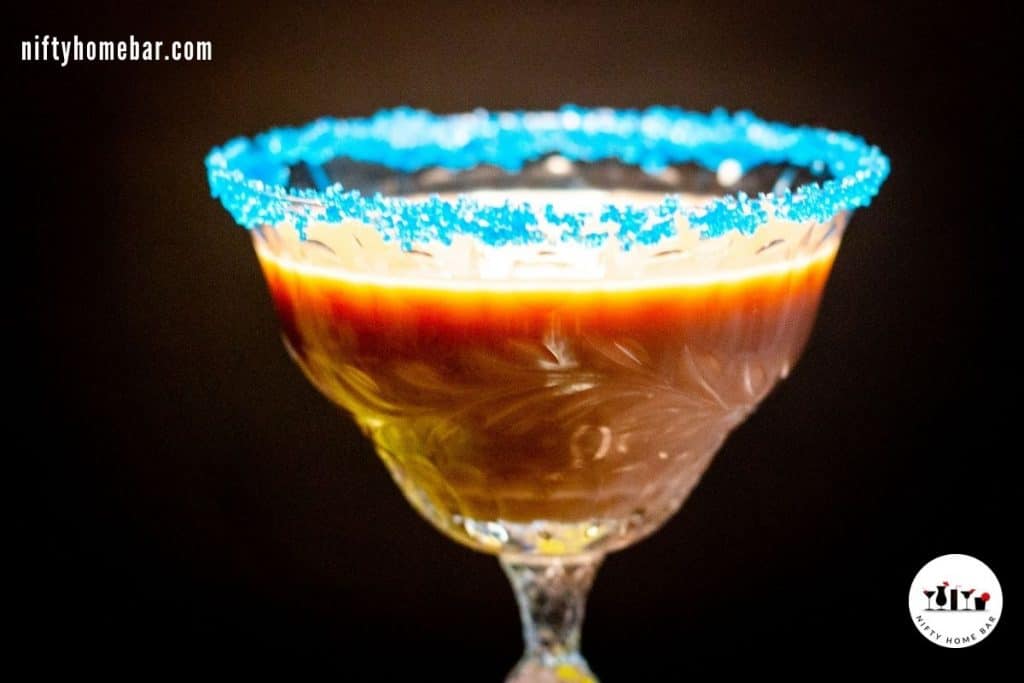 A festive cocktail needs a festive garnish. A blue and silver Christmas color theme is a nice change up from the traditional red and green. I like simple garnishes, so I rimmed the glasses with a blue colored sugar. There's a whole world of sanding sugars, sprinkles, nonpareils, and even crushed candy canes that you could use.
To rim the glass, dip the rim in water or a sugar solution, and then dip into sprinkles on a plate. Then turn the glass on its side, and roll in the sprinkles to cover the edges. Pretty easy.
If you want to skip the whole rimming scene, how about a serving the cocktails in a festive glass?
Mrs. Claus' Festive Chocolate Peppermint Cocktail Recipe
Let's get on to the recipe! Ready to get festive?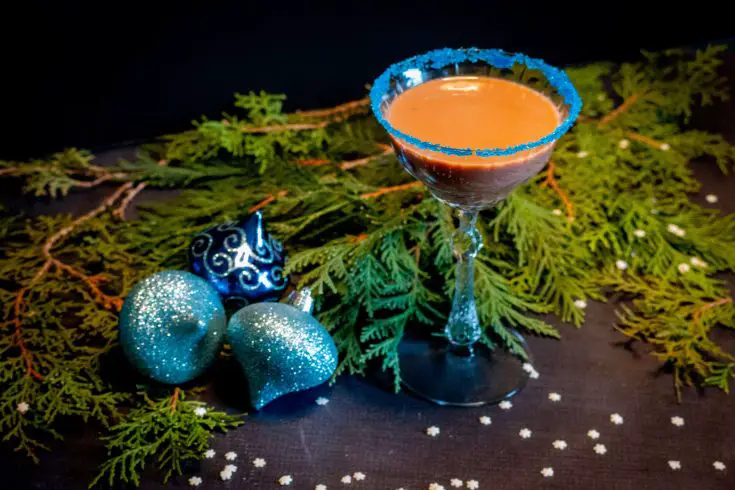 Yield:

2
Mrs. Claus' Peppermint Chocolate Cocktail
Ingredients
8 oz. Chocolate Almond Milk
2 oz. Peppermint flavored Vodka
2 oz. Creme de Cacao liquor
Garnish: colored sugar, sprinkles, crushed candy canes
Ice
Instructions
Combine all ingredients in a cocktail shaker.
Shaker for 30 seconds.
Rim glasses with garnish.
Serves 2.
Pretty simple, huh?
Pin this for later!