I have a lovely antique Art Deco bar cabinet that needs some attention, as far as bar accessories and equipment. Lately, I've been looking at retro style cocktail shakers as a starting point for equipping the bar.
The nice thing about the word "retro" is that it covers so many different styles and eras. Mid-Century Modern, Art Deco, and Moderne are just a few of the decorating styles between the 1920's and 1960's that score high on the "cool scale". With that in mind, I've gathered a collection of retro style cocktail shakers that would look great as part of a vintage bar.
A cocktail shaker is one of the most important pieces of bar equipment. Not only is it necessary for many mixed drinks, it sets the tone for the bar's aesthetic. This is especially true in a small bar, like a bar cart or bar cabinet, since there are so few pieces of equipment and a small display space.
A retro or vintage style bar theme gives you a fun opportunity to collect odd and quirky bar paraphernalia. From glasses with hokey sayings like "Bottoms Up", to swizzle sticks, to tiki themed everything, to vintage barware, a retro bar can add a lot of personality to your home. I like to mix vintage with new, and get a little bit of both worlds. Retro style cocktail shakers are an easy way to get both the vintage look and a new product.
Retro Style Cocktail Shakers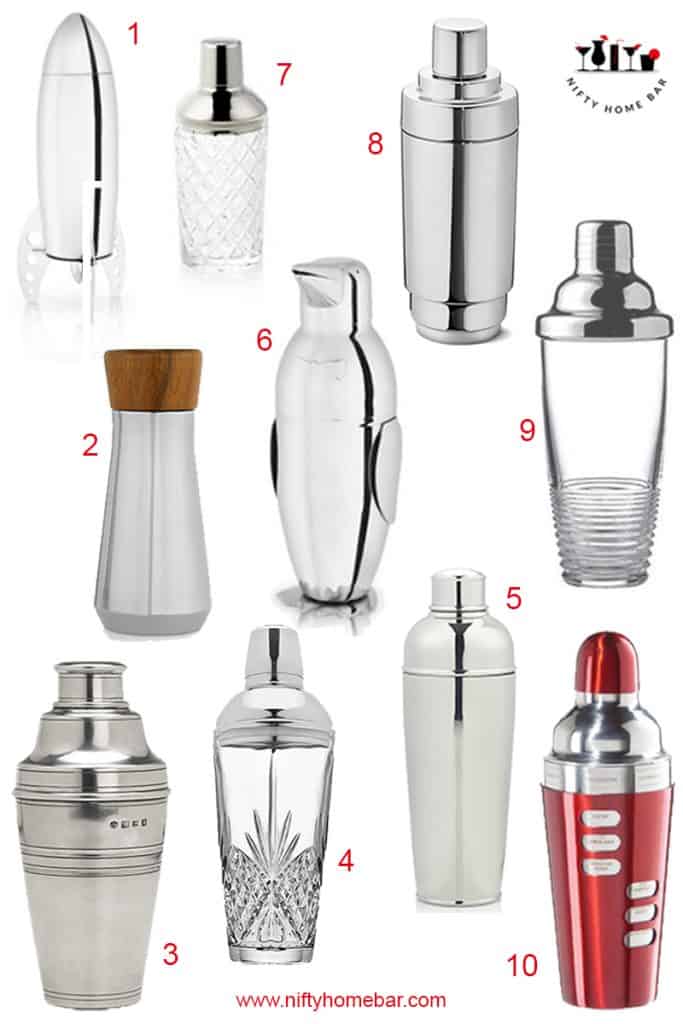 The 1950's, Sputnik, and the space race, all wrapped into one rocket shaped cocktail shaker. This would be the star of a vintage bar cart.
This retro style cocktail shaker is great for the Mid-Century Modern lover, and it has a matching decanter set.
With a hint of Art Deco streamline style, this pewter shaker is handmade by artisans in Northern Italy.
Feel like a bonafide grown up with one of these glass cocktail shakers.
A sleek and lovely modern style stainless steel shaker by Crate & Barrel.
Who could be unhappy when using this guy? Mr. Popper's Penguins meets 1930's Art Deco.
This glass cocktail shaker is seriously old school cool. Like something Don Draper would have in his Sterling-Cooper office. (BTW – can you imagine having a bar cart in a modern office and using it whenever?!?)
What's more retro than an Art Deco skyscraper? An Art Deco skyscraper shaped cocktail shaker, of course.
I really like the simplicity of this shaker. The bands of lines/ridges give it a very Art Deco feel. It's part of Waterford's line that includes matching pitcher and glassware of all types.
The last of our retro style cocktail shakers gets bonus points for the 1950's bright red color. Wowza! Many vintage cocktail shakers had drink recipes printed on the outside just in case you couldn't remember how to make it. With this one, you turn the red body to see the ingredients and measurements of three different cocktails: Tom Collins, Margarita, and Caipiranha. How's that for interactive?
While I need a new cocktail shaker, I don't think I can pick just one from the group! Maybe I should just buy two or three. Or four.
These unique retro style cocktail shakers will definitely level up the cool factor of your home bar.
Pin this for later!